Paul and I have been engaged for 5 days and already the plans are off and running. Sunday we spent time looking through Bridal Magazines and I showed him the pictures that caught my fancy. We picked our colours (Blue, yellow & orange). We are going to make our own bouquets. Like this:
Or this: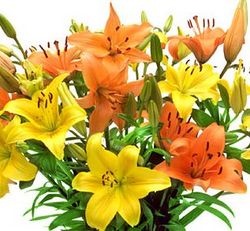 Tied at the base with a blue ribbon.
I think I will wear an orange sash with my wedding dress, I believe the Bridesmaids will be in Blue with an yellow sash, and the groosmens will wear suits with a orange boutineer.
We are trying to figure out where to get married because there may be a glitch with getting married at the kids camp I grew up going to in the states. It seems that some family members don't have passports and others aren't able to leave the country due to health reasons. We would love to find a picturesque camp around Vancouver somewhere...otherwise I'm not quite sure where to get married!
Alright while I type this Paul has fallen asleep on my shoulder; I should wake him up and send him home. Night!